This job listing has expired and may no longer be relevant!
Tiempo Completo

Asesores de publicidad digital para Interior de la República
SECCION AMARILLA – Posted by gck2018 – Anywhere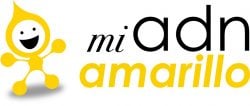 Descripción del empleo
Sección Amarilla busca agentes de ventas en publicidad digital
Requisitos: 
Experiencia en ventas de campo, preferentemente de servicios.
Conocimiento del entorno digital: Internet, buscadores, sitios web, redes sociales y aplicaciones web.
Automóvil propio (Beneficio pago de gasolina).
Deseable licenciatura en Mercadotecnia, Comunicación o carreras a fin. (Deseable carrera terminada, no indispensable)
Funciones: 
Prospección de clientes.
Presentación y comercialización de productos digitales.
Negociación y cierre de ventas.
Beneficios: 
Sueldo &7,127 más comisiones y atractivas prestaciones.
Bono por cobertura de metas.
Capacitación continua.
Contratación directa.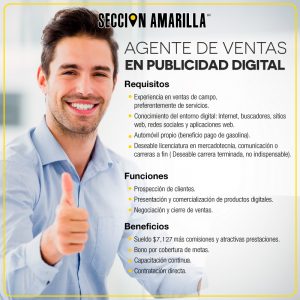 ¿Cómo aplicar?
Interesados, favor de enviar su CV a:
[email protected]
Job Categories: Marketing Digital, Mercadotecnia, Sales, Social Media, y Ventas. Job Types: Tiempo Completo. Job Tags: Ejecutvo de Venta, Interior de la República, Sales, y Ventas.
25495 visualizaciones totales, 2 hoy
Apply for this Job